Some say this guitar is a 'shredders' delight. With a slim neck, low action, bright tones as well as oodles of grunt, the Beast really delivers. Poplar Burl or maple tops are very light making the guitar beautiful and a pleasure to play for hours on end.
Coil tapped Humbucker pickups come as standard but P90s can be fitted to give a different set of tones. A hardtail bridge from Hipshot and locking tuners provide excellent intonation and tuning stability. A 2 point tremolo from Wilkinson allows dive bombs or some Hank Marvin vibrato if that is your thing. Our unique 5-way wiring configuration produces a range of interesting tones from the out of phase sounds of a stratocaster to the natural warm of humbuckers.
The basic cost of a standard model is £975.00 but you can configure this to your own specification using the congiguration tool below. Build time is currently between 8 and 12 weeks but please enquire because we often have standard models in stock for immediate shipping.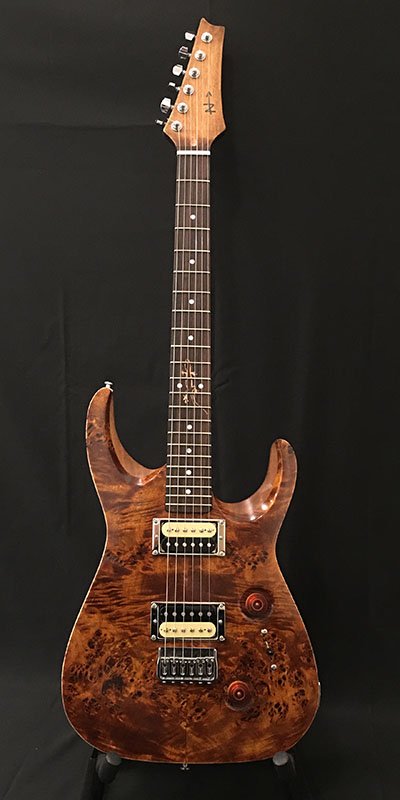 Body
Beast guitars are made from a single piece of mahogany with a cap of poplar burl or flamed or quilted maple. A version made with a 3 piece ash blank is also available. The back of the guitar has a deep belly carve and the front is shaped for the arm before the cap is attached. Burl tops are stabilised with epoxy to give a smooth surface the potentiometers lie within indentations. The mahogany back is stained to highlight the grain the burl or maple tops stained to emphasises the natural figure of the wood. The double cut horns of the beast are deeply carved for excellent access to the upper frets and the back of the neck pocket is sculpted for better access to the upper section of the fret board.
Neck
These models have plain maple necks as standard and pau ferro fretboards with a dual action truss rod with an aged, copper leaf decorated access hole. Mother of Pearl or metallic rod markers with epoxy fill are used to mark the fret positions. Necks can be customised and either bolted on or set into the body. Hipshot locking tuners provide excellent tuning stability and wide Nickel-Silver fret wire is used and complemented with a hand-carved bone nut. The fret board comes with or without inlayed motifs. The neck has 22 frets and uses a scale length of 25 inches or 635 mm. This scale length is mid-way between Gibson and Fender standards and introduces a balanced tone at concert pitch. The neck is stained a light amber colour and made to look "rustic" in keeping with the body colours.
Pickups and Hardware
The burl beast shown here features zebra style (black and white) humbucker pickups but one or more P90 pickups can also be fitted. Various wiring options are available, but a 5 position super-switch for double humbucker configurations is our favourite. Position 1, 3 and 5 switches between neck, neck + bridge and bridge pickups. Positions 4 and 5 select inner and outer coils of the neck and bridge pickups that are in reverse phase to give a "quacky" sound often associated with Stratocasters. A more standard wiring with a simple 3-way switch can be used instead with push pull pots to coil split the Humbucking pickups.
A hipshot hardtailed bridge is used for this model but a 2 point tremolo system from Wilkinson can also be fitted. Pickups can be mounted directly to the body or with pickup surrounds such as the chrome ones used in the example shown here.
The Beast Custom Configurator
The Beast Technical Specifications
Standard Configuration
Body Material
1 piece Mahogony
Body Cap
Poplar Burl, Quilted or Flamed Maple
Neck
Maple
Fretboard
Pau Ferro
Fretwire
Nickel Silver Wide/Medium (2.62 x 1.16 mm)
Fret Marker Dots
Mother of Pearl or Metalic
Tuners
Hipshot Locking Tuners (Chrome)
Bridge
Hipshot low profile hardtail bridge/
Neck Pickup
Rolling Mill Humbucker
Bridge Pickup
Hot Slag Humbucker
Electronics
3 way standard with Push pull coil tap pots or 5 way reverse phase option
Nut
Hand made Bone
Body Finish
Polyurethane
Neck Finish
Satin
Ordering and Delivery
Guitars in stock can be despatched within a few days of receipt of order. Otherwise, guitars are made to order. A small deposit is required to cover materials. Delivery is usually between 8-12 weeks but please contact us for current delivery times. Guitars are supplied with a hard case as standard. Please note that overseas customers may be required to pay tax on import.