This is a very beautiful but unusual design that incorporates concepts created by Luthier Rick Turner. Extraordinary sustain and warmth is created by making the body from two, oppositely radiused pieces of wood. This not only produces a guitar with beautiful classical lines and curves that is comfortable to play, the oppossing radiuses of each piece of wood is thought to enhance the vibrations from the strings to produce incredible sustain that is further enhanced with a set neck with extended hidden tenon joint and stacked heel.
The standard Tiger 2 model combines a piezo pickup in the bridge with a coil tapped humbucker in a rotating ring at the neck. Each pickup can be selected individually or blended with a custom potentiometer and pre-amp circuit to create an almost infinate number of tones.
You can choose a range of custom options including inlays, laminated necks and your own choice of pickup. Due to the unique rotating pickup mount, wider pickups such as soap bar P90s can not be used but single coil P90s in a humbucker footprint (Alchemist Hybrids) are an option. The cost for a standard configuration of this guitar is £1750 with custom options available for a small addditional charge, as shown in our configuration tool below. Build time is currently between 8 and 12 weeks but please enquire because we often have standard models in stock for immediate shipping.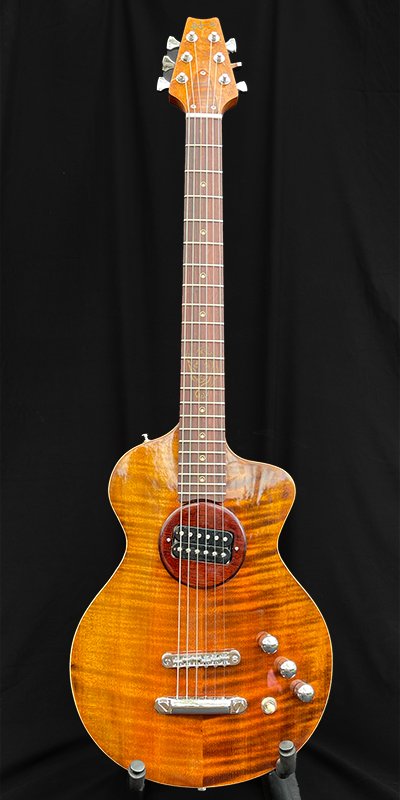 Body
This guitar is inspired by The Model 1 designed by Rick Turner and made famous by Lyndsey Buckingham. The body is made from two separate pieces of wood, each radiused, carved and jointed together. The mahogany back is hollowed out to reduce the weight of the guitar and grain filled and stained to highlight the grain and natural colours of the wood. The thick flamed maple cap of the original Tiger 2 is stained with an orange/amber/yellow inverted burst with a faux binding around the outside. Other staining patterns and types of wood cap are available. The body is sealed and finished with a clear polyurethane.
Neck
The neck is made from plain maple with a Rosewood fret board and a dual action truss rod, accessed from the headstock. Metallic, eccentric fret markers are filled with epoxy fill and a colour matched feline motif is inlayed around the 12th fret. 3x3 Hipshot locking tuners provide excellent tuning stability and wide Nickel-Silver fret wire is used and complemented with a hand-carved bone nut. The neck has 24 frets and uses a 24.75 inch or 628 mm scale. A 25 inch, 22 fret version is available on request. The neck has a stacked heel made of maple and mahogany sandwiched with ebony veneer. The neck is joined with a tenon and treated with a polyurethane finish.
Pickups and Hardware
The Tiger 2 uses a Hot Slag Humbucking pickup in the neck position. It is mounted in a circular holder made from bubinga that allows the pickup to be rotated to adjust the tone. The pickup produces a beautiful warm, clean sound at low volumes but becomes filthy when the gain is increased. The pickup can be coil-tapped with a push-pull volume pot. A three-way switch allows selection between the neck pickup and a piezo pickup integrated into the tunomatic bridge. A push-pull switch on the tone potentiometer activates a blending potentiometer that allows the contribution of neck and bridge pickups to be blended, allowing a huge range of sounds from heavy rock, to jazz to 6 and 12 string acoustic sounds.
Pricing
The basic model made from two slabs of mahogany starts at £1,750.00. The configuration tool below allows you to put together your own specification and submit the form for a no-obligation quotation. We can build more or less anything you want so please contact us for your individual requirements.
Tiger 2 Custom Configurator
Tiger1 Technical Specifications
Standard Configuration
Body Material
Mahogony Back
Body Cap
Flamed Maple
Neck
Maple
Fretboard
Pau Ferro/African Rosewood
Fretwire
Nickel Silver Wide/Medium (2.62 x 1.16 mm)
Fret Marker Dots
Eccentric Brass/Epoxy
Tuners
Hipshot Locking Tuners (Chrome)
Bridge
Tunomatic Piezo/
Neck Pickup
Hot Slag with coil tap
Bridge Pickup
Piezo
Electronics
3-way toggle switch with blend potentiometer
Nut
Hand made Bone
Body Finish
Polyurethane
Neck Finish
Polyurethane
Ordering and Delivery
Guitars in stock can be despatched within a few days of receipt of order. Otherwise, guitars are made to order. A small deposit is required to cover materials. Delivery is usually between 8-12 weeks but please contact us for current delivery times. Guitars are supplied with a hard case as standard.